Written by Administrator
Saturday, 06 November 2010 15:04
Last Updated on Thursday, 11 August 2011 05:50
Written by enrico->garante
Saturday, 06 November 2010 08:50
This is a simple, portable transmitter operating in the 88-108 MHz FM band.
1 Watt FM Transmitter
You may use it to run your own private neighbourhood radio, just replacing the microphone capsule with a male audio jack connected to your pc or MP3 player. You may also use this as a spy transmitter, but be reasonable in that case! :D
It's rated for 1 Watt, so you can listen to it even from a few kilometers, with a good antenna and not too much obstacles in the way.
1
Last Updated on Sunday, 07 November 2010 13:21
Read more...
Written by TehnikService
Saturday, 06 November 2010 00:00
This project is a floor lamp that can take the color and brightness as desired. Adjusting the brightness of each group is provided by a generator whose frequency is fixed but whose duty cycle (temporal relationship between high and low) is variable, much more efficient than setting current variation in LEDs. It consists of a fixed frequency oscillator and variable duty cycle for each of three colors. Each oscillator operates independently, which helps determine the degree of brightness of each red, green and blue. For this project I made a  PCB using toner transfer method.
More photos on Facebook Fan Page.
Last Updated on Saturday, 06 November 2010 20:26
Read more...
Written by Evan Ackerman
Saturday, 06 November 2010 00:00
Electroadhesion is pretty sweet. It's sort of the fantasy method of gripping something, since you turn it on and it'll stick to just about anything until you turn it off, and then it doesn't.
Last Updated on Saturday, 06 November 2010 12:50
Read more...
Written by Administrator
Friday, 05 November 2010 19:07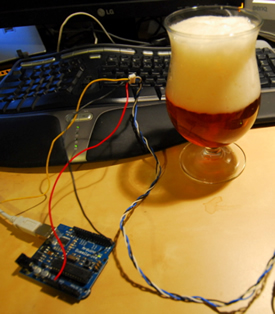 Home brewing with Arduinos open source microcontrollers allows home brewers the power to build complete brewery automation systems.
By HomeBrewing.com Staff
Arduinos are a new breed of open source microcontroller that can be used for a variety of purposes. One of the purposes for which Arduinos are being used is in the making of beer. The stages of beer brewing that can be automated and computer controlled via the use of these microcontrollers include mashing and the boil, although mashing is the primary application of these technologies. Here we will introduce a variety of Arduino controlled units and explain their application.
Simply put, microcontrollers are small computers built into a single integrated chip that have built in RAM, ROM, processor, and programmable in/out peripheral switches. Microcontrollers are used in many fields for many different applications, including newer cars, some medical implants, remote control units, photocopiers, power tools, toys, and the list goes on.
An Arduino is such a microcontroller, plus the software needed to program it. The big difference between Arduinos and other microcontrollers is that Arduinos are open source. This means that anyone can use the Arduino design, mass produce it, or just make a small amount of Arduinos for personal use, with no fee paid to the inventors of the device.
Read more...
<< Start < Prev 131 132 133 134 135

136

137 138 Next > End >>


Page 136 of 138